When you're starting out in film and video, there are many creative paths you could pursue. While the more traditional narrative, commercial, and documentary styles might require a few years of school and/or experimentation, there's one avenue you can literally dive into today: vlogging.
Vlogging has quickly turned from a gimmick into a full-blown video revolution. And for aspiring content creators of any ilk, the prospects of picking up a camera and launching a vlog should be very enticing.
All you really need is a camera, some personality, and imagination. So, while the latter two might be up to you, we do have you covered with some of our favorite picks for the best affordable vlogging camera options currently on the market.
From action cams to DSLRs to mirrorless, here are our picks for the best cheap vlogging cameras:
DJI Pocket 2 Gimbal
Canon VIXIA R800 Camcorder
GoPro Hero 10
Canon EOS M200
Panasonic Lumix G100
Canon EOS 80D
Fujifilm XT-200
Sony A6000
Panasonic Lumix GH5s
Let's dive in and unpack each of these picks.
What makes a good (and cheap) vlogging camera?
Before we dig any deeper, though, we do need to outline some of the core features that make a good vlog camera for today's content creators. Basically put, a vlogging camera needs to be small, lightweight, and versatile to help suit a self-shooting style.
Here are a few features to look for:
Flip screen or tilt monitor
Good video quality (4K preferable or at least Full HD)
Solid stability and IBIS (in-body image stabilization)
Small and lightweight for easy setup
Ample recording time capability and battery life
As an added bonus, it's certainly advantageous for a vlogging camera to be full-frame. But the real goal is simply to shoot quality footage from a comfortable distance and setup. If that means working with wider lenses to get the look you like, then that works too.
Let's analyze a few choice cameras and explore what makes each one a solid (and affordable) option for your vlogging content creation.
1. DJI Pocket 2 Gimbal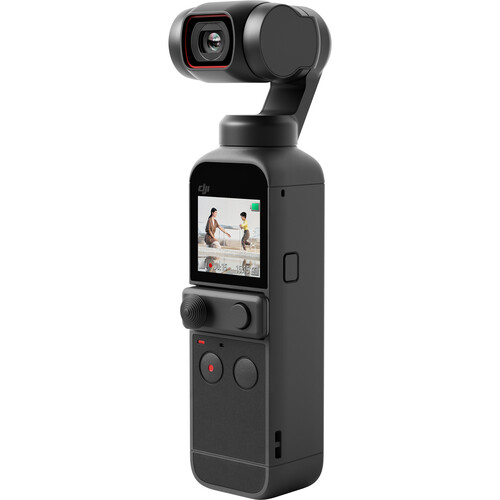 Starting off our list, we're going about as cheap as you can. The DJI Pocket 2 Gimbal is the latest offering from the celebrated stabilization and motion experts who brought you your favorite gimbal/camera hybrid with the DJI Ronin 4D.
However, this smaller and more affordable gimbal/camera hybrid system is a much better option for those looking to get started in the world of vlogging and other YouTube and social endeavors.
With a surprisingly powerful 1/1.7" 64MP CMOS sensor, the DJI Pocket 2 actually offers 4K video at up to 60fps and great battery life. It's also highly equipped for great audio quality pick-up with 4 microphones built-in and plenty of stabilization to help you shoot on the run.
With its nifty built-in monitor you can also vlog solo as you keep an eye on your performance which also includes some fun glamor effects and AI editing software.
Camera with 1/1.7" 64MP CMOS Sensor
Compact 4.1 oz, 3-Axis Gimbal Design
Capture up to 4K60 Video, 4 Microphones
Up to 8x Zoom, 93° Angle of View
Connects to Smartphone via DJI Mimo App
64MP JPEG or DNG Raw Still Photos
Built-In Glamour Effects & AI Editor
Optional Wi-Fi & Bluetooth Monitoring
Time-Lapse, Motion-Lapse, Panorama Modes
Price: $349.00
Want to see more? Here's an in-depth video review from a successful blogger.
2. Canon VIXIA R800 Camcorder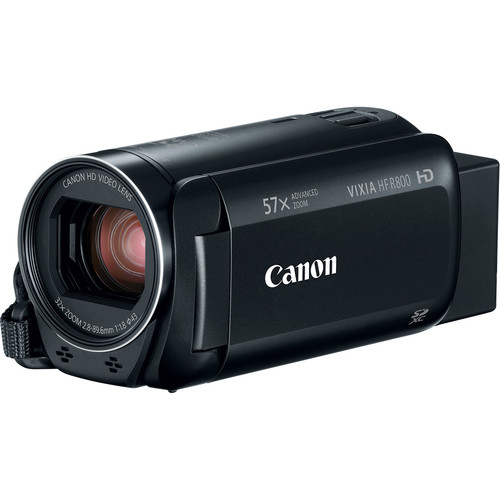 The Canon VIXIA HF R800 Camcorder isn't going to blow you away with its high-end features or 4K video recording quality, but this vlogging camera can offer just about everything you really need to start vlogging today. (And at a price point that's much lower than other compact cameras.)
With a 3.28MP sensor, this budget camera can shoot video in Full HD (1920x1080) at up to 60fps, which will be just fine for any cheap vlogging camera. Its tight design and easy-to-use compact camera functions and battery life also highlight how this is a true vlogging option straight out of the box.
Record up to 1920 x 1080p60 Video

Canon 3.28MP Full HD CMOS Sensor

DIGIC DV 4 Image Processor

57x Advanced Zoom and SuperRange O.I.S.

Capacitive 3" LCD Touch Panel Display

SD/SDHC/SDXC Memory Card Slot

Highlight Priority Mode

Fast- and Slow-Motion Recording
Price: $349.00
Want to see more? Here's an in-depth video review from a successful blogger.
3. GoPro Hero 10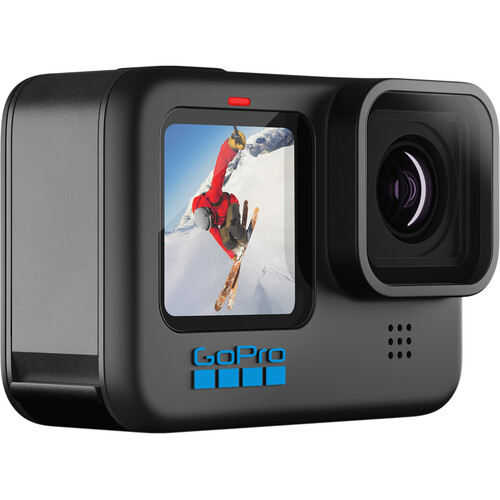 Thanks to a new front-facing camera as part of its design, the GoPro Hero 10 action camera opens up the door for some truly run-and-gun vlogging adventures with its durable action cam design.
As we've seen in past editions, these GoPro action cameras are no slouch either. The Hero 10 boasts 5.3K video at up to 60fps (plus 4K at 120p and 2.7K at 240p). It has a solid 23MP sensor which should provide some even better performance than past GoPros in terms of battery life.
However, this action camera's included features mostly have to do with its durability as well as its easy-to-use setup and functions.
It might not be the most cinematic option on our list, but if you're truly just starting out in the vlog world and want something affordable, this just might be your best bet.
Key specs include:
23MP GP2 Chip with Improved Performance
5.3K60/4K120/2.7K240 Video, 23MP Photos
New Front Display/Rear Touchscreen
Cloud Connected, 1080p Live Streaming
Enhanced Low-Light Performance
HyperSmooth 4.0 Image Stabilization
33' Waterproof without a Housing
Time-Lapse & Night-Lapse, 8x Slo-Mo
Built-In Flip-Out 2-Prong Mount
1720mAh Capacity Battery
Price: $449.99
Want to see more? Here's an in-depth video review from a successful blogger.
4. Canon EOS M200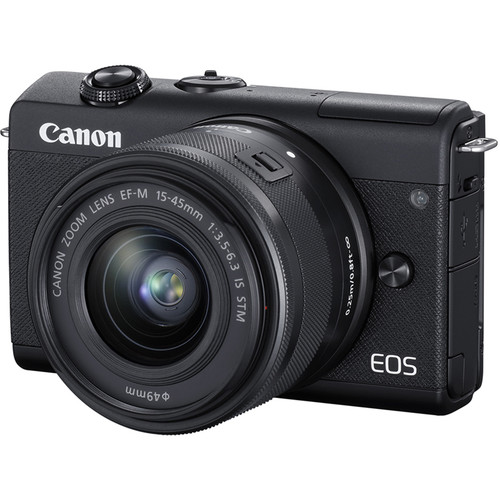 If you ask around (or check other lists online), you're bound to find the Canon EOS M100 mentioned as a top recommendation for vloggers. Here's the problem with the M100 though: it's a discontinued Canon camera, which means it's hard to find online.
However, the Canon EOS M200 is still around and actually may be even better for any vloggers or aspiring digital video content creators. Armed with a 24.1MP sensor (APS-C CMOS) and Canon's quality DIGIC 8 image processor, this Canon camera is fully capable of recording UHD 4K video at up to 30fps (as well as some great HD slow-motion at up to 120fps).
You'll also get a 180-degree tilting LCD touchscreen design with intuitive shooting controls, and other cool bells and whistles like a 4K time-lapse movie mode and AF detection.
If you'd like to really experiment with your self-shooting vlogging setup, the M200 even works with some remote camera control options and mobile device syncing. And you can use it with any traditional handheld or gimbal styles.
The M200 is indeed lightweight, high-quality, and quite affordable.
24.1MP APS-C CMOS Sensor
DIGIC 8 Image Processor
3.0" 1.04m-Dot 180° Tilt Touchscreen
UHD 4K and HD 720p120 Video Recording
Dual Pixel CMOS AF
ISO 100-25600, 6.1 fps Shooting
Built-In Wi-Fi and Bluetooth
Self-Portrait Mode, 4K Time-Lapse Movie
EF-M 15-45mm f/3.5-6.3 IS STM Lens
Price: $549.00 (with 15-45mm lens)
Want to see more? Here's an in-depth video review from a successful blogger.
5. Panasonic Lumix G100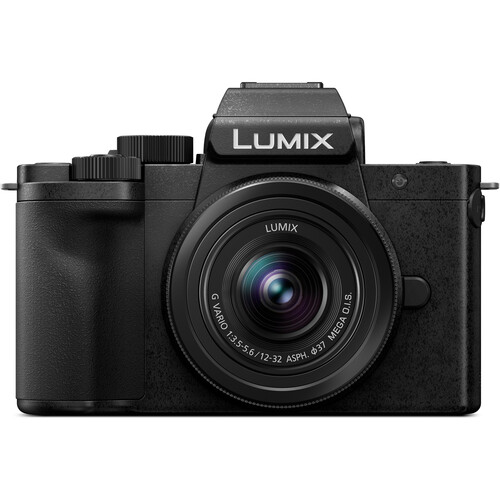 We'll get to some higher-end Panasonic Lumix cameras later, but if you're looking for some of the best bang-for-your-buck, then the Lumix G100 mirrorless camera is a vlogger's dream.
With a 20.3MP Micro Four Thirds sensor, you can record some detailed 4K video at up to 30fps and with some easy-to-use V-Log L pre-installed for that beautiful look. This budget camera is perhaps the best vlogging camera for anyone interested in still using interchangeable lenses.
This model that we're going to recommend comes with a 12-32mm lens, which would be ideal for this sensor as you'll want to stay as wide as possible for any self-shooting scenarios. But keep in mind that you have some great flexibility too because you can interchange lenses and still shoot plenty of cinematic B-Roll with whatever lenses that you'd like.
The 3.0" flip screen has a full vari-angle design which makes handheld or one-handed shooting quick and easy for any vloggers looking to shoot in any travel scenarios or YouTube videos on-the-run.
Key specs include:
20.3MP Digital Live MOS Sensor
UHD 4K30p Video, Pre-Installed V-Log L
5-Axis Hybrid Image Stabilization
OZO Audio with Subject Tracking
3.0" 1.84m-Dot Free-Angle Touchscreen
3.68m-Dot 0.73x-Mag. OLED Viewfinder
Vlogging UI and Video Selfie Mode
Advanced DFD AF System; 4K PHOTO
Bluetooth LE and Wi-Fi Connectivity
Lumix G Vario 12-32mm f/3.5-5.6 Lens
Price: $597.99 (with. 12-32mm lens)
Want to see more? Here's an in-depth video review from a successful blogger.
6. Sony ZV-E10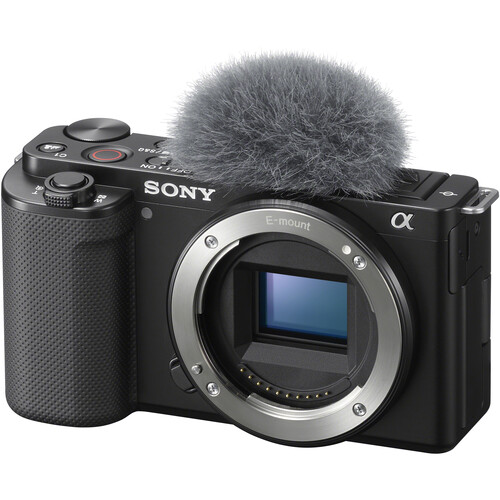 As promised when it was first announced, the Sony ZV-E10 has indeed become one of the best vlogging cameras currently on the market. After all, this Sony camera was specifically designed with vloggers in mind in terms of its size, functions, and specifications.
Starting with its 24.2MP sensor, the ZV-E10 can shoot UHD 4K video at up to 30fps, which is no knock as vloggers will seldom need higher frame rate recording. (Although if you do, you can certainly get it with Full HD capable of up to 120fps.)
The ZV-E10 really shines in its auto-focus tech though with a 425-point Fast Hybrid AF system. It also has the necessary flip screen along with all the nice mic inputs and design features that are really tailored for those looking to capture that self-shoot vlog aesthetic.
If you're just starting out and want footage better than your iPhone without also having to deal with a high price point, this might be your top pick.
Key specs include:
24.2MP APS-C Exmor CMOS Sensor
UHD 4K30p and Full HD 120p Video
3.0" Side Flip-Out Touchscreen LCD
425-Point Fast Hybrid AF
Up to 11-fps Shooting, ISO 100-32000
Real-Time Eye AF and Tracking
Background Defocus & Face Priority AE
Directional 3-Capsule Mic and Windscreen
Headphone and Microphone Ports
Price: $698.00
Want to see more? Here's an in-depth video review from a successful blogger.
7. Canon EOS 80D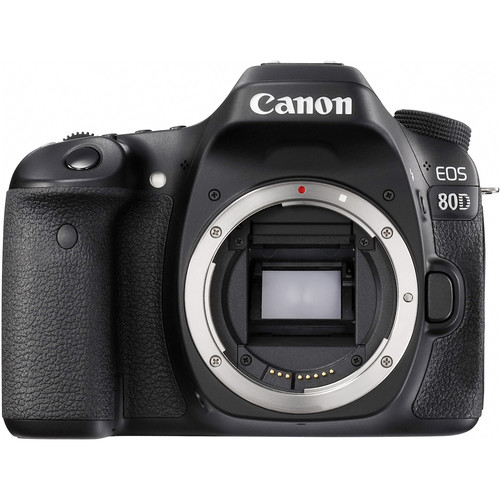 The heyday of the DSLR camera may have come and gone for some, but there are still plenty of affordable DSLR cameras that are pretty damn awesome — even if they're not as popular as their mirrorless counterparts.
Case in point: The Canon EOS 80D is a quality DSLR camera that is incredibly well-priced for what you get. As far as vlogging goes, you'll be able to shoot functionally, reliably, and in solid quality with its 24.2MP sensor capable of full HD at up to 60fps.
It also boasts great auto-focus (AF) tech and includes the needed lightweight and easy-to-use swiveling vari-angle monitor.
Key specs include:
24.2MP APS-C CMOS Sensor
DIGIC 6 Image Processor
3.0" 1.04m-Dot Vari-Angle Touchscreen
Full HD 1080p Video Recording at 60 fps
45-Point All Cross-Type AF System
Dual Pixel CMOS AF
Expanded ISO 25600, Up to 7 fps Shooting
Built-In Wi-Fi with NFC
RGB+IR 7560-Pixel Metering Sensor
Price: $899.00
Want to see more? Here's an in-depth video review from a successful blogger.
8. Fujifilm X-T4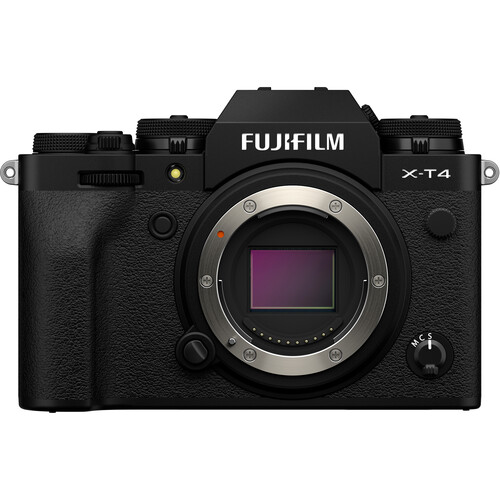 Moving on to one of the newer cameras on our list (that I selfishly wanted to include simply because I am personally interested in this one right now), the Fujifilm X-T4 could be a terrific option for anyone interested in vlogging or any other manner of indie filmmaking.
Improving marginally on Fujifilm's popular X-T3 model, the X-T4 finally fits the mold for vlogging functionality with its vari-angle touchscreen. It also offers all the expected bells and whistles you might expect from a popular 4K digital mirrorless camera these days.
With a 26.1MP sensor capable of DCI/UHD 4K at up to 60fps, you'll be hard pressed to find a better value camera that you can still handle with normal non-cinema camera setups (i.e. you can still edit this footage on your laptop if needed). It also has great HFR recording options, strong ISO support, and plenty of AF to boot.
Key specs include:
26.1MP APS-C X-Trans BSI CMOS 4 Sensor
X-Processor 4 Image Processor
5-Axis In-Body Image Stabilization
DCI/UHD 4K at 60 fps, Full HD at 240 fps
425-Point Hybrid AF System
3.69m-Dot 0.75x OLED EVF
3.0" 1.62m-Dot Vari-Angle Touchscreen
ISO 160-12800, up to 15-fps Shooting
Bluetooth and Wi-Fi Connectivity
Film Simulation Modes
Price: $1,699.00
Want to see more? Here's an in-depth video review from a successful blogger.
9. Panasonic Lumix GH5S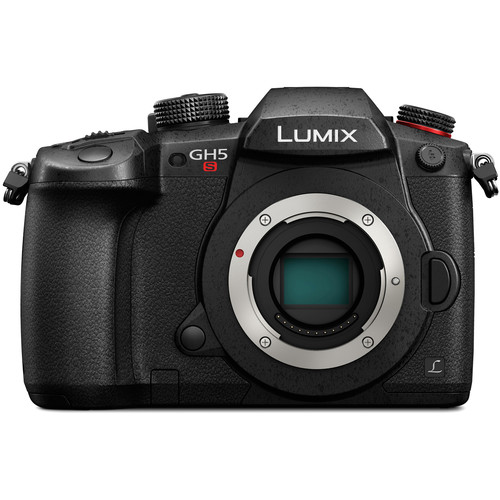 Finally, rounding out our list we have the always reliable Panasonic Lumix camera to consider with the GH5S. For anyone looking to get thrifty at this point, you could also check out Panasonic's Lumix GH4 or GH5, but the GH5S in particular might be the most appealing to vloggers.
It's not the newest camera on the market at this point, so its price has reduced to make it still a "cheap" and affordable option compared to other mirrorless cameras. It's still a micro four thirds camera with its 10.28MP sensor, but it offers beautiful 4K video footage with plenty of great vlogging features.
This GH5/GH5S line of cameras have been uber-popular on the market for a reason, and it might be your safest pick for a vlog camera that can also double for just about any other video production need that might arise as you launch your vlog and your career.
Key features include:
10.28MP Multi Aspect Ratio MOS Sensor
DCI 4K60p and Full HD 1080/240p Video
Internal 4:2:2 10-Bit Long GOP
V-Log L Gamma and HDR Hybrid Log Gamma
0.76x 3.68m-Dot OLED Viewfinder
3.2" 1.62m-Dot Free-Angle Touchscreen
Dual Native ISO 400 and ISO 2500
Dual UHS-II SD Slots; Wi-Fi & Bluetooth
Advanced DFD AF System
12-fps Cont. Shooting and 4K PHOTO Modes
Price: $1,797.99
Want to see more? Here's an in-depth video review from a successful blogger.
Final thoughts about finding an affordable vlogging camera
There you have it: nine of our top picks to help you find the best cheap vlogging camera currently on the market.
Remember, it's a delicate balance between quality and affordability. But keep in mind that anything in this $600 to $1,500 range should be good enough for any filmmakers or vloggers looking to create content exclusively for online distribution.
4K is still the name of the game, so try to shoot for recording video at that clip at least. (You can of course go with less quality for any slow-motion or other high-frame rate needs, but in general 4K is the new standard for productions).
From there, I'd say it's really up to you and your personal preferences. All the cameras above have great flip screens and reversible touch screens, or monitors to help you with solo-shooting any vlog content without the need of a full external monitor build-out.
If you're a fan of the simplicity of the GoPro, go with that. If you love your Canon color science and have some lenses already, by all means stay within your lane. If you live near a camera store, you can also try out renting any of these cameras for a bit to see if you like how they handle and whether or not they fit your personal vlogging camera needs.
Have fun with it. Try things out. And get to vlogging!